I have longed for a running partner for quite a while...
Hubby doesn't enjoy running... so he's out.
Mostest doesn't enjoy being in the stroller as much as he used to... so he's out.
I'm in a new town so I haven't made many friends yet... so that's out.
SO, I got a dog! LOL
I got this beautiful girl and named her Aurora. Goddess of dawn.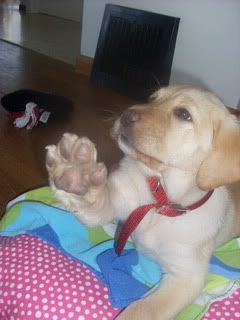 She was born on Christmas Eve (how fun is that?) and she is about 3 months old.
Anyway, yesterday I took her for her 1st ever run! She has so much freaking energy so I figure "Why not give it a shot?" So I set out with my Nike+ set for a 3k and a mindset to walk if either of us needed it. Turns out,
neither of us did!!!
I am so proud of her! It was rainy too and it didn't bother her a bit. On my end, I was pleasantly surprised because I had way more endurance than I have had in quite a while. It was a very successful run and I look forward to taking her for her next one.
Here are some pics of us after our run! :) We are a rainy, sweaty, badass mess! LOL