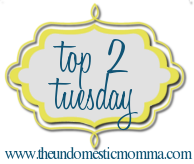 TOP 2 RANDOM THINGS ABOUT YOU
I saw this today and thought it would be a fun thing to do.
1)
(
In light of Mostest's self haircut last week) I am the "official" haircutter-when-you're-not-supposed-to in my family of origin. I thought that the ferret and cat's tail hair should end bluntly not tapered... so I cut it accordingly. (good thing I knew to check for where the tail was...) I also cut my brother's hair when he was about 4 because he asked me to and I was trying to be a good big sister. Unfortunately I cut a big chunk down to the scalp by his ear... Oops. Then when I was 17-18 and my sister was about 2 I wanted to give her a hair cut and my mom said no, but I did anyway :) It turned out really well and my mom liked it though LOL
2)
Google Images
I hate it when the house or car or whatever is quiet. If there is no music on it feels empty and wrong. Music makes my world go 'round and I would be lost without it. I can even break my childhood into chunks based on what kind of music I loved at the time.
Kindergarten- 2nd grade: Whitney Houston
3rd grade- 6th grade: Country
7th grade- 8th grade: Pop
9th grade- 10th grade: Punk
11th grade - 12th grade: Rock
And now I listen to evvvvverything except techno. LOL