Happy 4th of July everyone!
So I got my Nike+ sensor the other day and yesterday Mostest, hubby and I went out for a run and I calibrated it! I also got my nikerunning.com account all set up to log my runs and keep me on track for my training. When I get my next run in and log it I will post a shot of it :)
My run felt really, really good last night. I ran my callibration mile at a 9:27/mile pace, which is pretty good in general for me and especially since I have not run since when I first started this blog. Best of all it was not a bust-your-ass run at all, it was just a chill run you know?
Here's Mostest all set for a run: binoculars (because apparently he was bird watching...), and iPod with his favorite turns and headphones of course.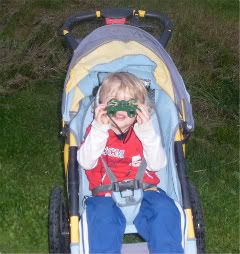 These things make him much more content to hang out in the stroller. I also enjoy listening to him sing to his tunes too :)
Today was the 4th of July and there are lots of food are pretty quintescienial... BBQ'd hot dogs being one of them. I looooove them! I caved and had one... But a cool thing that came out of it was that my mom mentioned that she was going to look for vegan hot dogs for me but that she ran out of time. It meant SO much to me to hear that not only is she being accepting of my choice to become vegan, she is supporting it!
I had a lot of anxiety about "coming out the closet" so to speak. I don't know any vegans so I wasn't sure how my family would react. Now that it is out there and they are accepting of it I am SO relieved!
Since I live in a small Alaskan town and it was the 4th of July today of course there was a parade! Here are some fun pictures from it! :)
Watching the parade with Mostest
I've never seen one of these before... crazy!
The PFLAG float! I'm so proud that we have one now! This is it's second year being in existence and in the parade!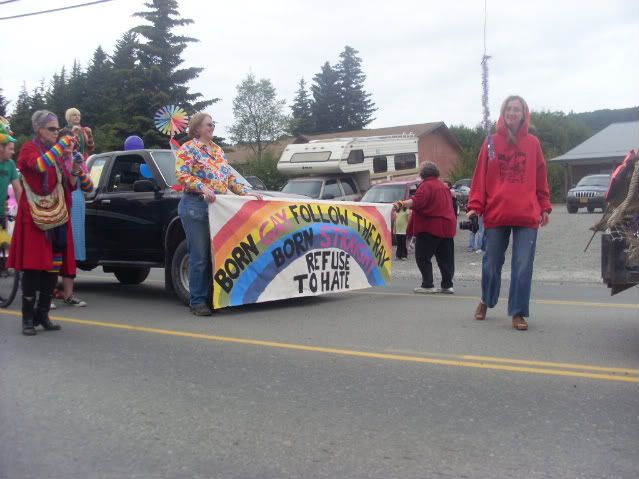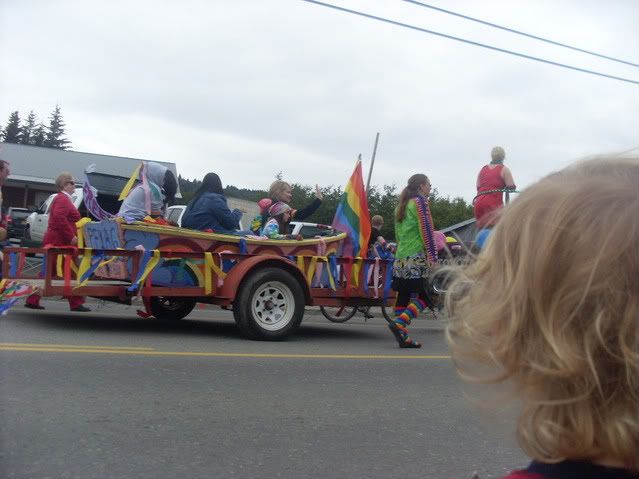 This just made me laugh!
This poster on one of the floats really moved me...
Lastly, I had to get a picture of one of these biker jackets because the Hoka Hey came to my town and it was awesome that some of them participated in the parade!